No partner needed!
Beginners welcome!


The New Jersey Branch of the RSCDS holds classes and parties
open to all who are interested in Scottish Country Dance.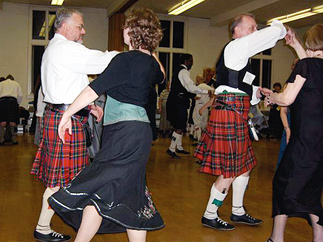 NEW!
If you dance in Manhattan, both classes have moved recently.
Click for directions to the NY Branch and Scotia.

View or download the NJ Branch 2013 / 2014 Flier
Beginners: 2nd Class free with this Coupon!

Read about us in the Suburbanite!



30th Annual Rerr Terr
Tenafly, NJ
Saturday, April 5, 2014
Flier Dance Notes Dance List/Videos

Revisit the past!
Check out the Dance Lists
from the past 30 years of the Rerr Terr!




Pawling Weekend
Hopewell Junction, NY
Saturday/Sunday May 16 - 18, 2014
Webpage &nbsp &nbsp Reg. form &nbsp &nbspDance Notes&nbsp &nbsp Dance List/Videos




Westchester Ball
Larchmont, NY
Saturday, June 7, 2014
More information to come...


NOTE:
The 'Dance List' links go to a Strathspey Server Database page.
Click the 'video' tab at the top for videos of each dance on the list.
Or click on the name of a dance to visit a page with
videos, cribs, and more for each dance.