COME DANCE WITH US!
No partner needed!
Beginners welcome!

The New Jersey Branch of the RSCDS holds classes and parties open to all who are interested in Scottish Country Dance.

View or download the NJ Branch 2014 / 2015 Flier

Beginners: 2nd Class free with this Coupon!

NEW! RSCDS NJ Branch Membership Form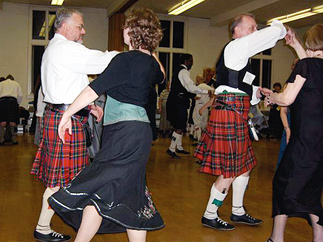 VERY SAD NEWS
NJ Branch member Richard Tully
passed away June 5, 2014.

The Happy Soles Scottish Country Dancers (Fanwood) are holding a dance to celebrate his memory on Saturday, Novemember 1, 2014 in Fanwood, NJ. Download the flier for information.
Remembering Richard Flier

Obituary Online Memorial.



WE'RE NUMBER 9...
BBC America lists
10 British Things in Bergen County.





Nutmeg Workshop
Southbury, CT
Saturday, October 18, 2014
More information to come...


Cherry Hill Jubilee
Cinnaminson, NJ
Sunday, October 26, 2014
Save-the-Date Flier


Remembering Richard
Fanwood, NJ
Saturday, November 1, 2014
Flier


Jeannie Carmichael Ball
West Point, NY
Saturday-Sunday, November 8-9, 2014
Flier/Application &nbsp &nbsp &nbsp Videos/Cribs


Delaware Ball
Kennett Square, PA
Saturday, November 15, 2014 (new date)
Flier, Program and Registration


Drewry Night
Brooklyn, NY
Saturday, December 6, 2014
More information to come...