No partner needed!

Beginners welcome!


The New Jersey Branch of the RSCDS holds classes and parties
open to all who are interested Scottish Country Dance.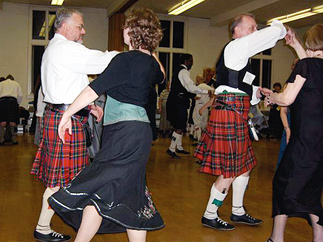 NEW!
Tenafly Dancer Jane Sharp has 2014 calendars available now
with her own Scottish Dance Paintings.

Beginners: 2nd Class free with this Coupon!

View or download the NJ Branch 2013 / 2014 Flier

Read about us in the Suburbanite!



Drewry Night
Brooklyn, NY
Saturday, December 7, 2013
Application Dance Program Dance Notes


Westchester Hogmanay
Elmsford, NY
Tuesday, December 31, 2013
More information to come...


Delaware Valley Hogmanay
Philadelphia, PA 
Tuesday, December 31, 2013
Website Flier/Registration Dance Notes


Burns Night
Manhattan, NY
Thursday, January 24, 2014



Burns Night
Tenafly, NJ
Tuesday, January 28, 2014