COME DANCE WITH US!
No partner needed!
Beginners welcome!
The New Jersey Branch of the RSCDS holds classes and parties open to all who are interested in Scottish Country Dance.
View or download the NJ Branch 2013 / 2014 Flier
Beginners: 2nd Class free with this Coupon!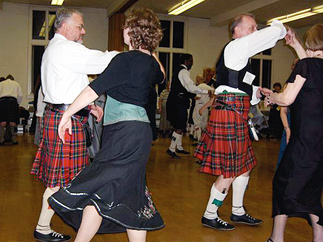 VERY SAD NEWS
NJ Branch member Richard Tully
passed away June 5, 2014.

Rich was an enthusiastic, longtime Scottish Country Dancer, most recently at Fanwood. He made every dance he attended a better dance. We will miss him very much.
Obituary Online Memorial.


WE'RE NUMBER 9...
BBC America lists
10 British Things in Bergen County.


REVISIT THE PAST:
Check out the Dance Lists
from the past 30 years of the Rerr Terr!
SUMMER CLASS SCHEDULE
The Tenafly class will be holding social dances in Ho-ho-kus, NJ on Tuesdays during the summer; go to the class page or download the flier for directions and information. Fall classes begin again in Tenafly September 2, 2014.
Fanwood does not meet in the summer;
they will resume dancing September 23, 2014.
Hightstown dances Monday nights all year (the hall is air conditioned) except some holidays.
Cherry Hill dances weekly through June 25; dances July 9 and August 13; and resumes regular Wednesday dances September 3, 2014.
RSCDS TEACHER CANDIDATE CLASS
The New York and New Jersey branches are jointly offering a teacher candidate class starting in the summer of 2014. It will meet monthly in northern NJ. If you are interested in becoming an RSCDS certified teacher, contact Chris or Sue Ronald as soon as possible at cjr878@gmail.com.





Long Island Scottish Festival and Games
Old Westbury, NY
Saturday, August 23, 2014
Webpage


Alpine Boat Basin Picnic and Dance
Alpine, NJ
Sunday, September 21, 2014
Flier and Program Cribs and Videos